Top 3 Reasons to Choose High-end Hair Salons over Cheap Chain Salons
Going to a salon is a quintessential part of almost every woman's "self-care" regimen. If you were to choose, though, where would you prefer to go? A high-end salon or a chain salon? Some might argue that you could get the same expensive upscale salon services at a chain salon for a fraction of the price. But of course, we all know that it's not the case.
High-end hair salons are more meticulous in their services, and you can rest assured that the products they use on you are of premium quality. You're sure to look AND feel good after a nice pampering—and, girl, you know we can't just put a price tag on that. *wink*
The Basics of Choosing a Hair Salon
Choosing the right hair salon is crucial for your hair care needs. The salon you select should provide a welcoming and comfortable atmosphere while maintaining cleanliness. It should be a location to relax and unwind without any worries. It's important to have confidence in your hairdresser, knowing that they possess knowledge, experience, and impeccable style when it comes to hair.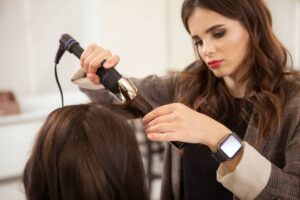 You want to feel assured that your hair is in capable hands. Upon entering the salon, you should feel assured that you will receive the best cut, style, color, or treatment, and when you leave, your hair will look stunning.
Your hair plays a significant role in defining your identity and self-expression. Therefore, it is important for salon hairdressers to understand your needs and preferences to achieve the best possible results for you and your hair.
Visiting a salon for hair services should not feel like a chore but rather an indulgent day of pampering. Each time you schedule a hair appointment, you should be excited about the experience.
Why Choose High-end Hair Salons Over Chain Salons?
The differences between high-end hair salons and cheaper chain options can't be overlooked. These differences include the level of training and experience of hairdressers, the quality of tools and products used, the excellence of customer care, and the range of services offered.
In terms of experience and training, high-end hair salons require hairdressers to complete formal schooling and undergo additional training. Before working at a high-end salon, hairdressers must complete an apprenticeship. This apprenticeship involves more training beyond the initial schooling, focusing on refining haircutting, blow-drying, and coloring skills for diverse hair types.
The duration of an apprenticeship can vary from six months to two years, based on its structure and the hairdresser's proficiency. Moreover, high-end hair salons may offer or mandate ongoing advanced education yearly to ensure their hairdressers stay updated with the latest techniques and trends.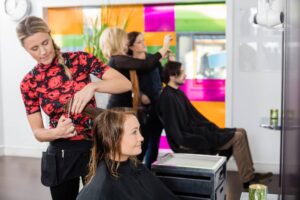 In contrast, most hairdressers at cheap chains are only required to complete basic schooling and typically lack additional training upon being hired. Consequently, their experience may be limited to working on mannequin heads rather than real clients. This lack of hands-on experience with actual customers poses a risk, as these hairdressers may need help understanding and fulfilling clients' specific desires, particularly when it comes to complex styles.
This uncertainty surrounding a hairdresser's ability and familiarity with clients' preferences underscores the importance of opting for a high-end salon, as it significantly enhances the likelihood of achieving the desired results.
The Importance Of Tool And Product Quality
Staying updated with state-of-the-art tools and premium products is a standard practice in upscale hair salons. They understand the significance of quality. By utilizing high-quality tools and luxurious products, they strive to achieve flawless results for your hair because that's what you deserve.
The hair stylists at these salons possess extensive knowledge from their experience, enabling them to determine the most suitable products for different hair types. They take massive pride in their work and exclusively provide top-notch products. Conversely, chain salons often compromise on quality by offering lower-grade products, and their hairdressers may have different expertise in identifying the best tools and products.
Expanded Range Of Services
High-end hair salons typically offer a wider array of haircuts, blowouts, hair extension installation, and color options that may not be available at lower-end establishments.
Knowledge and overall quality of lower-end salons can be improved to ensure their ability to meet your specific requirements. On the other hand, high-quality salons can offer you a wider range of choices and may even offer additional services—like an upscale bar so you can sip and relax while getting your hair done.
Customer Care Quality
High-end hair salons prioritize providing an exceptional guest experience, separating them from places like cheap salons that need a personal touch. Their main focus is transforming the routine task of getting your hair done into a pleasurable and indulgent experience.
Upscale salons prioritize guest care by utilizing premium products and understanding their customers' wants and needs for their hair. They aim to ensure your hair looks great and feels healthier than when you first stepped through their doors.
What To Consider When Choosing A High-End Hair Salon
When selecting high-end hair salons, there are several factors to keep in mind:
Salon Location
The salon's location is crucial for hair and skincare treatments. Opting for a beauty salon near your home provides convenience. Nevertheless, your priorities will determine whether you will travel a bit farther for superior services.
Hair Salon Prices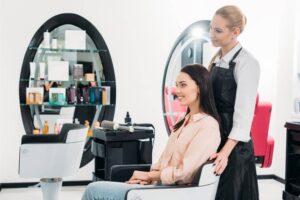 Consider the price range of a hair salon when making your selection. Before receiving any treatments, it is important to check the service prices to ensure they align with your budget. Choosing a high-end salon that provides high-quality service is smarter than choosing a cheaper salon that may leave you unsatisfied with the results.
Research Hair Salons
Not all beauty and hair salons offer the same level of service. Given the abundance of options available in Waco, Texas, it's wise to conduct thorough research before settling on a salon. Look for customer reviews on the salon's services and overall experience to help you decide which salon to choose for your treatments.
Recommendations
Seek recommendations from friends, family, and neighbors regarding salons they have had positive experiences with. When asking for referrals, be sure to inquire about specific details, such as the range of treatments and the quality of service they received.
Are you looking for a trendy, high-end salon that gives you more value than just a gorgeous blowout? Here at On the Avenue Salon and Blowout Bar, you can grab a drink and relax while our expert hair stylists make you look and feel amazing! Remember, sis, you are worth the splurge. Please reach out to us today to schedule your appointment!