9 Considerations When Choosing the Best Hair Extensions
With the quick and simple addition of length and volume provided by hair extensions, your hairstyle and look can change as minimally or as dramatically as you would like. Hence, you should be careful in choosing the best hair extensions. Hair extensions can be a quick and satisfying method to cover up a terrible haircut or get ready for an important event. However, it would be best if you didn't hurry into getting your hair extensions done.
Caring for hair extensions requires a bit of time. Also, improper installation can do more harm than good, so hire an experienced professional like us at On the Avenue Salon and Blowout Bar for the best results.
Here are a few important things you should know choosing the best hair extensions in Waco, Texas:
What Should You Consider in Choosing the Best Hair Extensions?
Which Professional Stylist Should You Work With?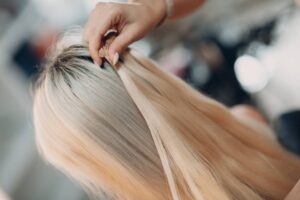 If you want long-lasting extensions, you want to work with the right stylist, preferably someone who is an expert at installing hair extensions. Be willing to talk with several stylists at different salons to make an informed decision. Putting hair extensions in is a specialized niche, so be diligent in looking for a professional.
The best hair stylists will allow you to come in for a consultation, show you what kind of extensions they offer, and book an appointment. Here at On the Avenue Salon and Blow Out Bar, we have 18 different colors and blends so you can take your hair game up a notch and find the best shade for you!
Take notes when you talk with the stylist, and be willing to ask questions. Remember, you are interviewing them for a job: installing your hair extensions.
Only book another appointment if you have a good feeling about their capability. Ask them about their experience in installing hair extensions so you can gauge their capabilities.
What Is Your Budget?
Getting hair extensions can be a good investment because it makes you look and feel good—and that's what we all want, right? Be upfront about what you can reasonably afford, and be prepared to tip your hair stylist well.
You can spend hundreds or thousands based on what you want. However, you should still inspect the quality of the hair extensions you're getting. If you want to look as natural as possible, like you're not wearing hair extensions, we recommend choosing the premium ones. Don't settle for cheaper selections that make you look like you're wearing a wig afterward.
What Type Of Hair Is Used?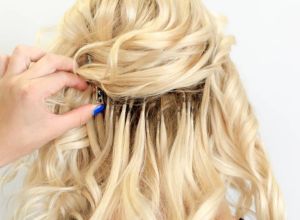 The best extensions are ethically sourced, chemical-free, and 100% human-hair. These strands of hair must not be treated with raw chemicals or have silicone added. Premium does come with a price tag, so you might need to shell out more, but the feel of the hair and the confidence you'll get will be worth it.
What Type Of Hair Extension Are You Getting?
Don't just go with whatever your best friend or the latest celebrity has posted on their Instagram and recommended. It may look beautiful on them, but you have different hair. Different folks, different hair extensions. What works for one person may not work for you. Doing your research before going to a salon for a consultation is important. There are five types of hair extensions:
Tape: Usually lasts around two months. Your hair will be added in and taped with the extension.
Sew-ins: Last 2 to 4 months. Also known as a weave, this is braided and sewn into your hair.
Clip-ins: Hold for 2 to 4 months. These pre-clipped strips snap onto sections at your hair root.
Bonded/Fusion: Expect to last four months. These keratin bonds have dried 'glue' at one end.
Micro link: Lasts four weeks to 2 months. These micro extensions attach to the hair with a flattened microbead without glue. They will need to be tightened at or around the four weeks mark.
How Will The Installation Process Work?
Ask the stylist how long the installation will take. Some hair extensions can take up to 5 hours to be installed, depending on the type and the complex installation processes involved. Other hair extension installation options, like tape hair extensions, may take less time, as the extensions are intended to last about 6-8 weeks. Compare the answers you get.
Maintenance
Beautiful hair extensions may take extra time to care for at home. You can have a world-class, 5-star-rated salon to do the work, but the upkeep will be your responsibility. The right stylist will not let you leave the salon as soon as the extensions are in but instead walk you through the exact products to use on your new extensions and give you step-by-step instructions on how to care for your tresses, from washing to drying and brushing.
Caring Requirements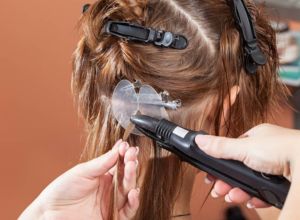 When you get hair extensions, you must ensure you take good care of them. And it would be best to ensure that the hair extensions you get are good for your hair. Select the right – and lightweight hair extensions so they do not pull at your hair, weakening and destroying them. For appropriate hair and hair extension care, you must have a daily brushing routine, proper hydration, and utilize natural products that don't contain any drying chemicals.
When you have hair extensions attached, opt for an expert known for hair extension knowledge for the best results. After putting on the hair extensions, it's advised to get a hair trim done to guarantee it all looks natural.
How Good Is Your Current Natural Hair Without Extensions?
You will wear and take care of your hair extensions like your natural hair, so great hair health is paramount before the extensions are in place. A great salon will tell you whether your hair is healthy enough for extensions. If your hair is too brittle or dry, you will need guidance on getting your hair in shape before extensions are added.
Longevity of the Hair Extensions
The time you must wear the hair extension is super important when choosing the best hair extensions. Most synthetic hair extensions can last up to half a year with daily wear and the proper care, so they are perfect for shorter-term options.
However, a human hair extension may be the right choice if you are looking for a premium hair extension that will last you throughout the seasons. These can be used longer, and although they're more expensive, they are a wise investment.
Choosing the Best Hair Extensions with On the Avenue Salon and Blowout Bar
Are you looking for a reputable hair salon that can install your hair extensions? Here at On the Avenue Salon and Blowout Bar, we have years of experience and a team of professional and highly-trained experts to help you choose and install your hair extensions. We will consider your needs, preferences, and budget in determining the right ones for you. Please call us today to book a consultation and appointment!