Top 10 Stunning Current Hair Color Trends to Try
Even if we are already halfway through the year, many of us still want to keep up with the current hair color trends. After experiencing the pandemic and lockdowns, a lot of people have wanted to change things around—starting with their style and looks! It is finally time to take your hair game up a notch, starting with a trendy new hair color.
2023 is still all about subtle but statement-making color that does not require constant upkeep, including low-maintenance colors in extra eye-catching shades. These current hair color trends are here to inspire your Pinterest boards and salon appointments all year.
Current Hair Color Trends to Try
Blended Bronde
An easy-peasy pick: this color allows cool-toned brunettes to lighten up with blonde that will last several months. Blending is the key.
Caramel Melt Balayage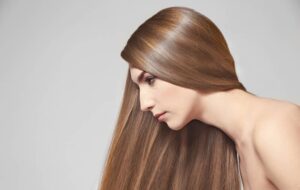 Roots, who? You can caramelize your brunette mane without risking growing pains by asking for balayage that focuses on the ends and around the face.
Strawberry Brown Balayage
Welcome to the coolest shade of brunette to appear in 2023's lineup. Dark brown is made to look easy-peasy when you zhuzh up the foundation color with intense strawberry red.
Peach Blonde
Say hello to the new strawberry blonde. It settles into the best peach blonde shade on the orange-toned side and can be worked into natural blondes and redheads alike.
Auburn Tinges
Natural brunettes can get a little extra zing with minimal balayage baby lighting in a warm shade like reddish auburn.
Soft Cool Black
Black hair color is often considered harsh—when it can be striking most stunningly if you flatter your skin tone. The soft cool-toned black hue pops on warm skin tones.
Low-Maintenance Platinum
Consider this a new and improved version of platinum blonde that begins with darker blonde roots and melts into all the bright colors you could want—without risking huge damage with constant touch-ups.
Robust Ruby Red
We are adding this dreamy redhead inspo onto the Pinterest board, stat. This color is vibrant and all about focusing on the deepest shades of ruby red.
Sunlit Honey Blonde
Think beach blonde, but more grown-up and subtle. Warm blondes like honey and gold work harmoniously to create a multi-dimensional look that makes you look lit from within.
Glossy Mocha
This brunette color is a smoke show. Glossy coatings of deep mocha brown will get you through any terrible hair day, and it's a simple choice for naturally darker brunettes.
Current Hair Color Trends: Professional Coloring Or DIY?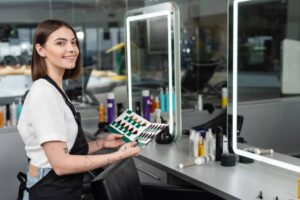 When it comes to box dye vs. salon color, it's always best to get your hair colored by a professional. Salon formulas are better for your hair, and having a pro colorist apply them also ensures the best results. Whenever you regularly get your hair colored by a professional, they carefully create the color to minimize hair damage and regularly check your hair's health. If you go blonde or choose red velvet, the stylist will find the ideal method to lighten the old color or switch to the new shade.
Customized Color
If you have a specific hair color in mind, you may need help finding a box of hair dye that meets your expectations. Instead of settling for a color you don't want, a professional can create a customized color that will meet your needs.
Professionals aren't limited to the colors you can find on the grocery store shelf. They have hundreds of colors at their disposal, not to mention they can mix two or three colors to create your ideal shade. Additionally, suppose you have a specific style you want to achieve using multiple colors. In that case, it is much easier for a professional to create your desired look instead of trying to section off and dye different strands yourself.
It's Safer for Your Hair
Many people think about their hair falling out if they play with excessive chemicals, and if you dye your hair from a box, this is a valid concern. Store-bought hair dyes often contain many chemicals to help dye your hair with no additional products, and using these types of dyes repeatedly can result in a lot of damage to your hair. However, at a professional salon, it's important to remember that your color artist is trained to create a high-quality result and protect your hair.
Your Color Is Done Correctly
Many folks who've tried coloring their hair alone might have faced issues resulting in a less-than-perfect color outcome. DIY hair dye kits often create a mess, and controlling where the color ends up on your head, especially when doing it alone, can be tough.
When you visit a professional hair salon, you can feel confident that your hair color will turn out just right. Instead of guessing how your hair will look once it's dried and styled, you can be sure that your color expert knows their stuff and can achieve the look you want.
Professional Dye Lasts Longer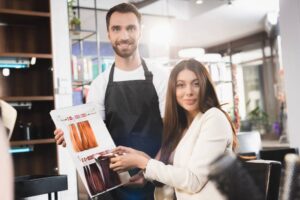 Lots of folks like DIY hair dye kits because they're affordable. The dye boxes from stores are cheap, which is good if you want to experiment. However, these home kits only stay effective for a short time, so you might buy more every few weeks to maintain vibrant hair.
We all know that getting your hair dyed at a salon isn't cheap, but you must consider what you're getting. You're paying for the nice salon atmosphere, the stylist's expertise, and high-quality dye that lasts longer than store-bought kits. Even though pro dye costs more initially, you will only need so many salon visits to keep your hair looking great.
Schedule an Appointment Today!
Are you interested in trying something different with your hair? At On the Avenue Salon and Blowout Bar, we offer expert hair care services to help you look and feel your best. Our color artists at our hair salon have years of training, and they will take the time to work with you and create a look and color that will make your personality shine.